Article published on "www.infobuild.it", November 2013.
Control Casa, home automation from your smartphone, tablet, touch screen and PC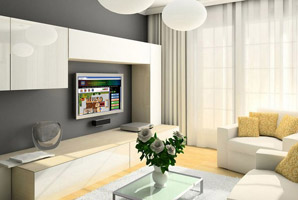 Control Casa is the automation solution designed and manufactured by DAT instruments, an Italian group with a 20 years experience in electronic instrumentation applied to the toughest and most difficult fields of engineering intervention.
Control Casa is a Style choice which grants that home comfort in line with the brand new technology and the lifestyle of the users. The automation plants are compatible with plates, buttons and sockets of all the different brands available on the market. With three simple touches it is possible to enjoy your own personalized home scenario. The system is composed by a large list of functions and modes that enable the adjustment and the control of not only the lightening and the heating systems, but also the geothermal plant, photovoltaic, sound system, swimming pools, wellness area and garden irrigation, according to real time weather forecasts.
Control Casa technology is a 360 degrees comfort that let user control all appliances and home features directly through smartphone, tablet, touch screen and PC. This ensures also maximum security: the system checks the closure status of the building at a preset time, according to your habits and needs, advanced alarm system functionalities included.
Thanks to the latest generation sensors, Control Casa detects water, gas or smoke leaks and it keeps the house safe. In addition, the system is a valuable saving resource, by checking and controlling automatically the lights, and disabling sockets at night (which eliminates stand-by consumption of all appliances).
The system consists of a CPU, with Internet connection to grant remote control, which sends/receives data from/to a/several junction boards. It also sets the several desired automatisms at each time of the day. The CPU is connected with a software to run all functions and the settings. A safe communication bus is used to enhance reliability and data transferring speed. Every room may be installed with a fully integrated board that communicates with the CPU. A power supply with UPS is added to the system to provide power in case of black-out.
Share this with your friends: