CCTV
This advanced security feature provides controlled access to the home and to specific rooms and areas within the home.
In addition to maintaining all other security features, such as alarm siren and alert texts or emails, this feature creates access authorization by specific individual.
Some common practical uses for individual security access settings:
Cleaning and maintenance staff can be restricted to specific rooms or areas;
Lawn and garden maintenance personnel can be restricted to select outside areas and storage rooms;
Protect young children from dangerous environments, such as chemical storage areas or tool rooms.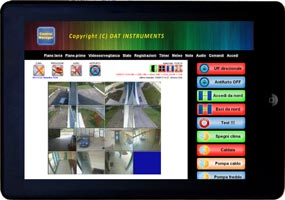 When children exit their room or stray close to hazardous areas such as staircases and balconies, the CTRL-Security system can play an alert message to family members through speaker system.
For commercial settings, CTRL-Security can allow different levels of access to individual employees, providing access to approved areas and detecting access to unauthorized areas.
A security alarm, included with the system, can be controlled remotely through customizable software. Security system data, including authorized and unauthorized entries and alarm activations, are recorded on log files that can be saved for later review and reporting.
CONTROL CASA and CONTROL MANAGER are perfectly integrated with video surveillance systems.
Share this with your friends: