Article published on "www.impiantoelettrico.co", July 2014.
Control Casa – a DAT instruments brand – is a cutting edge home automation system that enhances your home safety, rendering it more welcoming and tailored upon your lifestyle.
Designed, developed and manufactured by DAT instruments, Control Casa is a home automation system easy to use and to install. The system ensures comfort to your home, in line with the brand new technology and the lifestyle of the users. Thanks to a very friendly-use interface, it lets you control all home appliances and features.
Control Casa is compatible with plates, buttons and sockets of all the different brands available on the market. Just a few simple touches on your smartphone, tablet or PC to enjoy immediately your favourite home scenario. The system is composed by a large list of functions and modes that enable the adjustment and the control of not only the lightening and the heating systems, but also the geothermal plant, photovoltaic, sound system, swimming pools, wellness area and garden irrigation, according to real time weather forecasts.
Control Casa technology is a 360 degrees comfort that let user control all appliances and home features directly through smartphone, tablet, touch screen and PC. This ensures also maximum security: the system checks the closure status of the building at a preset time, according to your habits and needs, advanced alarm system functionalities included. Thanks to the latest generation sensors, Control Casa detects water, gas or smoke leaks and it keeps the house safe. In addition, the system is a valuable saving resource, by checking and controlling automatically the lights, and disabling sockets at night (which eliminates stand-by consumption of all appliances).
The system consists of a CPU, with Internet connection to grant remote control, which sends/receives data from/to a several junction boards. It also sets the several desired automatisms at each time of the day. The CPU is connected with a software to run all functions and the settings. A safe communication bus is used to enhance reliability and data transferring speed. Every room may be installed with a fully integrated board that communicates with the CPU. A power supply with UPS is added to the system to provide power in case of black-out.
Some example?
EVO-Chef let you set and start the oven when you are not at home.
CTRL-Drop controls the heater and it prevents water leaks from being trouble.
EVO-Welchome is the best way to receive your guests, simply opening gates and doors from smartphone, tablets or PC.
With EVO-Spa the bathroom becomes a unique sensorial experience, by easily setting the right music and volume or even dimming the lights.
EVO-Ride is the exclusive function for riders. A button on the handlebar opens the main gate and box, letting the rider access the house without stepping off the bike. It goes without saying that the same function is available on smartphone or tablet.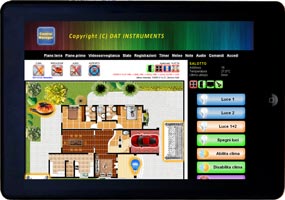 Share this with your friends: